Staff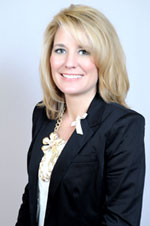 Kristi Wolfgram has served as President of Arms Within Reach Foundation since its inception in 2008. As President, Kristi is responsible for developing Foundation programs and activities, and spearheading fundraising initiatives.
With 12 years of experience as a liaison between upper limb patients, reimbursement agencies and upper extremity prosthetic specialists, Kristi is keenly aware that many upper limb amputees are in need of financial assistance in order to receive upper extremity prosthetic rehabilitation. Due to a congenital below-the-elbow deficiency, she also personally understands the difficulties upper limb patients face and is able to offer them and their families empathy and guidance for an independent future.
Born and raised in Omaha, Nebraska, Kristi received her first prosthesis at six months of age. Since then, body-powered, electrically-powered and activity-specific prostheses have helped her enjoy an extraordinarily accomplished and active life. As an adolescent, Kristi enjoyed dance, swimming, ice-skating, gymnastics, softball and horseback riding. As an adult, she continues activities in dance, water-skiing, cycling, cardio and weight training.
Kristi is a member of the Association of Fundraising Professionals and the Nonprofit Association of the Midlands. She earned a bachelor's degree in broadcasting from Northwest Missouri State University where she was a member of Alpha Sigma Alpha Sorority and the university's nationally-ranked dance team, The Steppers.
---