Life Resumed - One Family's Story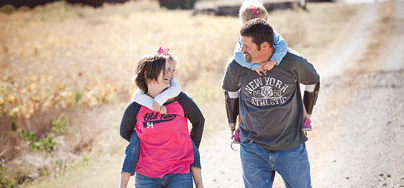 On March 1, 2008, 29-year-old Jason Koger was electrocuted by a downed power line. His wife Jenny found him in the field where it happened. Jason knew he was hurt, but he didn't think it was that serious.
Jenny says, "During the ride to the hospital, all kinds of thoughts went racing through my head, and I thought, 'I just want him to be able to hold the girls, I want that for him.' At the hospital, I hear a doctor run out—he didn't know we were there—and he says, 'This kid could lose his hands.' I thought, 'What did he say? This can't be real.' And then I started praying.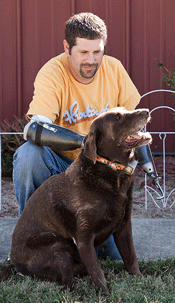 "The doctor comes in and he looks at me and he says, 'Look, there are toxins released in your husband's body, and if I go in there, and I don't have your permission to cut off his hands, he's gonna die.' The thought 'Do I sign or not?' didn't cross my mind—I signed. Jason alive, without hands, or Jason not here—that's not an option.
"I knew then that my whole life was going to change, but it wasn't my life changing that really bothered me, it was my girls, and Jason not being able to do stuff with the girls."
Jason recalls, "When I woke up three days later, my dad walked in and looked at me and I said, 'How bad is it?' He said, 'Well, Jason, we'll get through it. You've lost both your hands.' I knew at that minute God gave me the opportunity to keep my life, and that meant more than anything, because I knew that I needed to be here for my wife and my two little girls, to be able to support them, and with me not having my hands, well, I could get through that one way or another."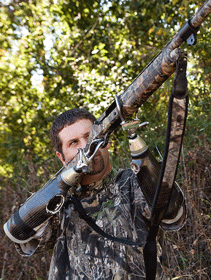 Jenny says, "The first time we tried to go anywhere, it took me 4 hours just to get everybody ready, I had to give everybody a bath, I had to get everybody dressed, then I had to feed everybody."
"You learn all over again," Jason adds. "How to dress yourself, everything that a baby would have to learn. Nothing is as easy as it was with hands or as fast, but until I got my prostheses, I thought somebody would have to wait on me all the time."
Fellow bilateral amputees helped Jason learn to do things it had taken them 16 years to do. He credits them with his rapid progress. Less than a year after his accident, he was doing everything—dressing himself, driving, and hunting, including building a deer stand.
Jenny says, "Three years later, and we're getting better every day."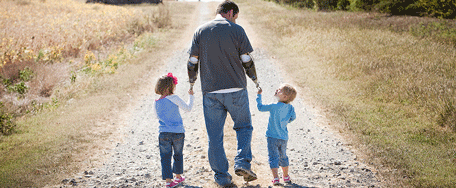 Jason says, "The most important thing to me is that I can still hold my little girls. To walk around and look down at them holding my hands has been very humbling. I know with all the research going on, prosthetics are only getting better. Living without hands, in my opinion, was impossible, but since I've gotten prostheses, anything is possible."
---